The Minister of Basic Education held a press conference in Pretoria on 8 September where she announced the new E³ TeacherConnect WhatsApp chat-based learning platform.
TeacherConnect launches with a digital health assessment tool, HealthCheck, which has been designed to assist in schools to re-open safely.  It also includes many resources to assist teachers as they navigate the new COVID-19 reality and beyond.
This moment is auspicious in that this is the first time that the DBE has the opportunity to communicate with all teachers.  Everyone involved on the school system is able to pre-test themselves for COVID-19 which will meet the goal of creating safer schools.  It will also give people more agency over their own health and contribute to the data the DHET needs to monitor the health of the nation.
HealthCheck is the first tool to be available on the TeacherConnect platform and will play a crucial role in helping to protect teachers and learners as schools reopen. With school communities expected to do a quick and convenient daily symptom-check, HealthCheck will provide a much needed early-warning system to help keep schools open.
The TeacherConnect platform has been developed as a way to empower and support teachers, by providing access to the best learning content in an ultra-convenient place – WhatsApp!  
As it rolls out, TeacherConnect will have a comprehensive collection of valuable information and resources that allow for deep engagement and feedback opportunities for teachers via WhatsApp. The content featured will include Training and Development modules for teachers, weekly video and text-based Resources, guidance on how to develop critical 21st Century Competencies in our learners, and even access to digital Professional Learning Communities and support from highly skilled teacher development coaches.
"The TeacherConnect platform has come at just the right time, as we work to get schooling safely back on track," says Basic Education Minister Angie Motshekga. "The new normal can be stressful, but with good quality information we can make good decisions that help us beat COVID-19 and get back to normal as swiftly as possible."
Watch the video
How it works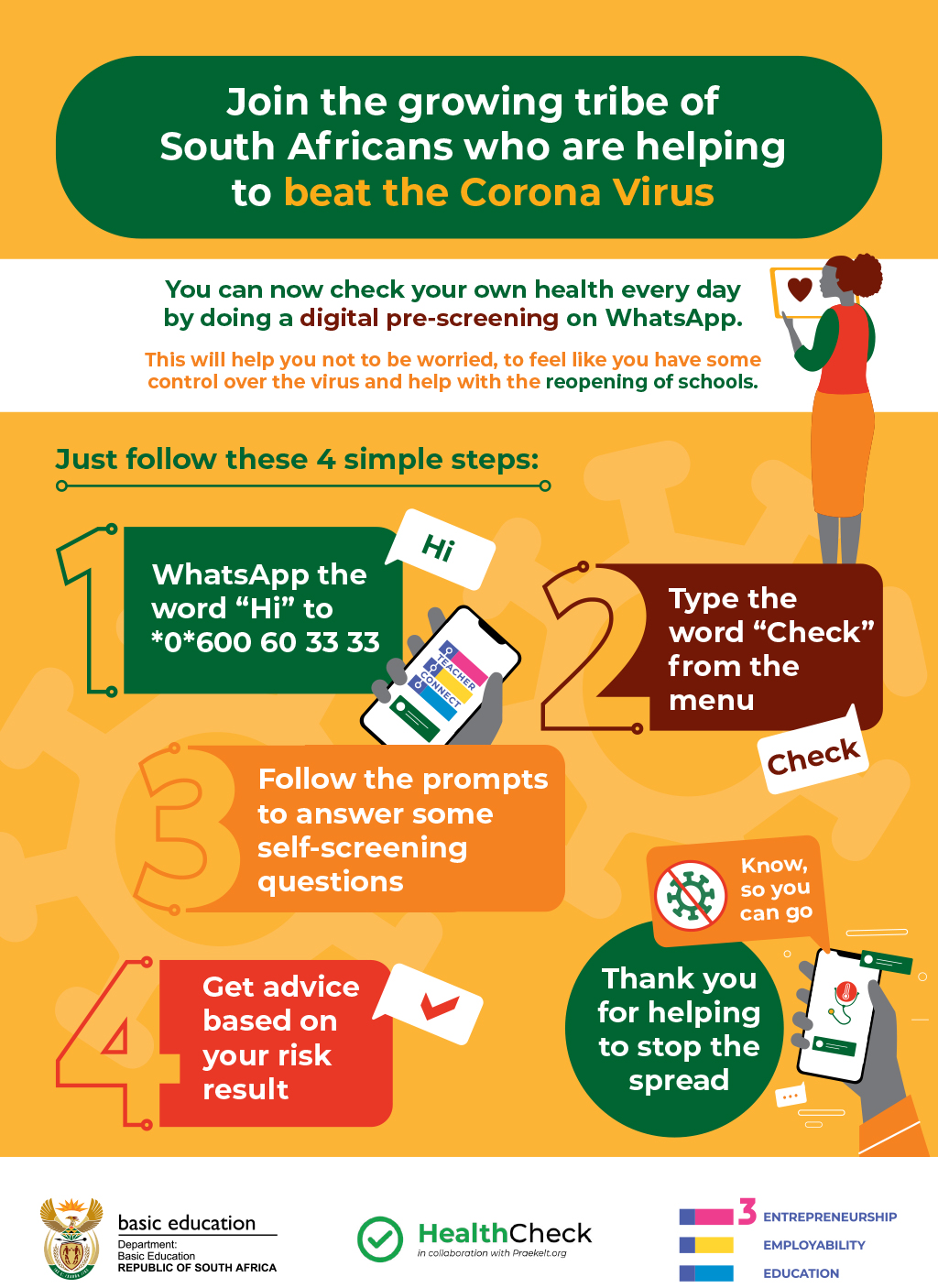 Links: